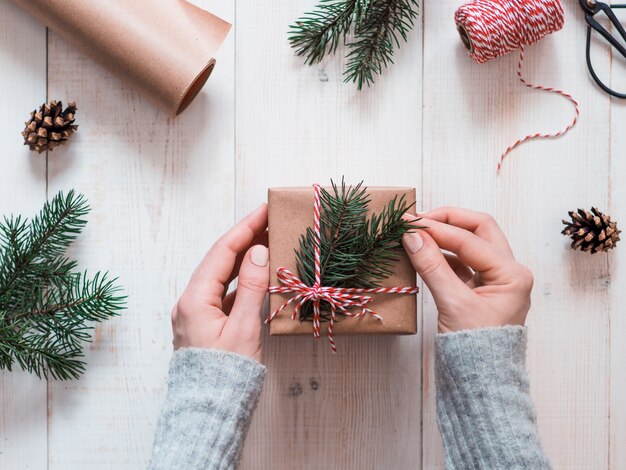 It's a season of gifts.
Where the holidays are supposed to be about Jesus, so much of our attention is focused on the giving and receiving of gifts. But then, He is about giving gifts too. He gives us life and breath. He gives us salvation. He gives us the gift of Himself. He gives us spiritual gifts that we are to use to glorify Him and to enjoy; and He gives us tangible gifts, like a job and friends and a house. He is the source of all the things.
I've always enjoyed giving but struggle more to receive. I can remember a friend of mine sharing a season of suffering she experienced within her family and for five years, she said she was in a season of receiving. She said where it was uncomfortable and she always wanted to be able to give back, she couldn't. She got to receive the generosity of her community who rallied around her and her family, and she gave the gift of sharing her life and her story with the promise to give where she could when she was able. Seasons of receiving—seasons of giving.
As I've moved into a new home, certainly there is the gift of God in the provision of the home; but there are so many more gifts that I couldn't have expected, and also needed. As I've thought about the people who helped make this happen and who have given physically and emotionally to celebrate with me, it's A LOT of gifts.
Jami—my savvy real estate agent and friend who wheeled and dealed and got me a house I love that I can grow with, with a mortgage on my low end….in Austin Texas where people don't get deals (Pflugerville, but same difference).  A little Christmas miracle.
Ashley and Eric—let me cry in their kitchen as I wrestled about the decision, who went couch shopping with me while I cried some more and made myself sick in between furniture stores, and who brought me champagne and cake and a card to shower me with love and encouragement that God had me.  He wouldn't let me fail.
Jami, Karina, Meghan, Gina, Patty, and Laura visiting the home with me after my option period closed to see it and celebrate with me, followed by Mexican food at a place down the street.
Andrew and Kyle who looked at my budget and said I was wise and could make the leap and own a home.
Lewis, my inspector, who told me to call anytime; and when I took him up on it, he helped me prioritize the things I needed to have fixed now and later, and really later.
The previous owner who stopped by to teach me how the fan worked, told me about the water softener and brought me a Christmas present of shampoo, conditioner, and cookies.
My parents who helped me buy my washer and dryer.
Patty who loaned me a table and tubs for moving and brought me bubble bath because she knows how much I love baths.  And a Keurig because she knows how much I love coffee.
Mallory who gave me her lawn mower.
Alex who said he was happy I was echoing on a virtual meeting because it meant I was sitting in my new (empty) home that he knew I wanted.
The gentleman who moved me who basically stood on his head to take my bed apart and put it back together, so I had one piece of furniture intact.
Shanda who brought me dinner my very first night while Jami put new locks on my door.
Fabs who sent me my very first plants to make the space homier.
Kim who loaned me a Christmas tree so my dreamy windows could twinkle with lights. And sent me potholders and trivets to make cooking fun.
Kyle who came over multiple times to hang my awkwardly big TV and then loaned me a truck to pick up furniture.  Laura who came over after 14 hour shifts with her husband with a bottle of wine, fancy wine opener and sat with me in my bed (my only piece of furniture) until her hubby finished all the hanging work.
Anna and Sean who arrived at just the right time to help me unload a desk; and Sean with his spatially oriented mind who figured out how to get it through the door without taking the legs off.
Karina who helped me organize my kitchen and brought me my first fancy candle.
Patty and Jim who sent me a gift card to Home Depot for all the random odds and ends I most surely forgotten I needed.
Karina and Jami who helped me hang decorations and stupid toilet paper holders which are surprisingly difficult.
My secret Santa, Adrianna, who gave me measuring cups and spoons because I love to bake.
Julie who made me a beautiful farmhouse table of my dreams and delivered to my door on a Saturday night with her hubby.
Nicole who let me shop out of her storage and literally held a couch on her back so I could see if I liked the coffee table (I did—it's great). 
My mom who came in helped me hang more decorations and helped me shop for a lamp that I love.
Anna and Karina who came to walk my walking trail with me.
Shanda who let me cook-burn her food and figured out my smoke detectors DO work.
Kyle who figured out that my water softener was making weird noises because there was no salt in it.
Bindu who called me and asked me about my life and my couch; yes—there is a spot with your name on it waiting for your next ATX visit.
My friends who christened my home wine and apps with my first gathering of peeps.
Anna who brought me a basket of goodies…and baskets are my fav.
Kendi who brought me a cheese board and little cheese knives.
Gina who found me a must-have Friends gargantuan mug for coffee, and earrings because you always need to be a little fancy.
Meghan who brought me a mug and cookies.
John, Denise, Michael and Kati who sent me an amazon card that bought me twinkle lights for my patio and lovely towels for my bathroom.
The countless delivery men from Amazon, and Lowes and Home Depot workers who have helped me with my insane questions.
So now, as I sit in a home that feels like a home, it is already filled with little trinkets, smells and memories that remind me of my favorite people, I am overwhelmed with gratitude for all the little gifts. I see God's hand most notably in my friends—but also in His timing; His quirky little ways of reminding me He is there turning all the things the direction they should go. He has given me so much and I relish continuing to look for the little gifts He keeps showing up with. And I look forward to giving back with this home in the ways He allows me to.